RTS Wales Centre

@RTSWales   
 @RTSWalesDigital  (NB: Now discontinued)
 
Welcome to the RTS Wales pages - Croeso!
Find out About RTS Wales, see our Latest News below, or follow the links on the right.
 
Latest News - RTS Wales
Congratulations, Tim
Our Chairman, Tim Hartley, has just completed the Camino di Santiago pilgrimage, cycling 800 km in 12 days.

 
RTS Announces Student Television Awards 2017
Entries are welcomed from any students attending higher and further education institutions at both Undergraduate and Postgraduate level.  Awards are presented in six categories: Animation, Comedy & Entertainment, Drama, Factual, News, and Short Feature.
Read More

Eisteddfod Genedlaethol
Our annual Eisteddfod event will be a session at Sinemaes, entitled, "The Directors of the Future", and is a screening of three short Welsh language films produced by young people from Dyfryn Nantlle, and a Q&A session with the filmmakers.
Darllenwch Mwy yn Events
Read More in Events
We are also arranging for the main ceremonies to be shown on a big screen in the Sinemaes tent.
 
Welsh RTS Promo Video
We have produced a video about the RTS, with captions in Welsh, ready for the National Eisteddfod.
(Thanks to committee member, Kym Epton.)
Mwynhewch!
https://youtu.be/kOcya8iwqa8
 
TV in Small Nations
Last November we held an event in Cardiff following the first Workshop under this banner, on 'Internationalisation-challenges and opportunities for small nations'.
Read More in Reports
Earlier this month there was a third such Workshop in Aarhus, Denmark, with the title 'Sustaining Talent', taking 'talent' in TV to include content creation, production, craft skills and commissioning, as well as on-screen performers and presenters.
Read More in Reports
 
Queen's Birthday Honours
Congratulations to ​Jonathan Glyn Mathias, who has been made an OBE, 'For public service and services to Broadcasting in Wales'.
 
Glyn was a lobby correspondent at Westminster for thirteen years, and is the former Political Editor of Independent Television News (1981–1986) and BBC Wales (1994–1999). As of 2013 he is a member of OFCOM's Content Board and Chair of OFCOM's Advisory Committee for Wales. (From Wikipedia.)
 

 
Visit to the BBC's Natural History Unit
In a joint event with RTS Bristol, we arranged an evening visit to the Unit on the 26th May.  This was your chance to meet the NHU face to face; view excerpts from and discuss their latest visual feast, Life in the Air; and find out more about wildlife film-making from some of their most experienced producers.  You would also have met a flock of starlings!
Pictured: Tim Scoones, Executive Producer, Lynn Barlow, Chair RTS Bristol, with James Brickell, Series Producer, Simon Bell and Giles Badger, Episode Producers.
(Click on picture to view full size.)
Read More from RTS Bristol, and see what you missed.
 
Gareth Gwenlan OBE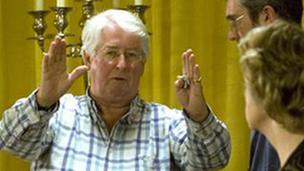 We were sorry to hear of the passing of Welsh producer/director Gareth Gwenlan at the age of 79.  His most recent work in Wales was the situation comedy High Hopes, written by Boyd Clack, and starring Bob Blythe and the late lamented Margaret John.
Read More from BBC News

Student Films - Screenings
In association with the Wales International Documentary Festival, we presented a screening of That's That: The Three Loves of Vala, the recent Factual category winner of the RTS Wales Centre Student Television Awards 2015.  That was on May 13th at the Blackwood Miners' Institute.
We also hosted a screening of the award-winning film Fog of Sex (Stories from the front line of student sex work) on May 9th, as part of the Carmarthen Bay Film Festival.
Read More in Reports
 
RTS Wales Student Television Awards 2015

We are pleased to announce that the winner in our Open Award category, An Unfortunate End: The Boy and the Fairy, also won the Award in the Undergraduate Open category of the national RTS Awards, presented on the 3rd June in London.
Congratulations and good luck for the future to Jordanne Richards.
Read More about the national Awards
 
RTS Promo Video
The promotional film, made by RTS Bristol Vice Chair John Durrant, highlights the work of the RTS within the television industry.
If that has whetted your appetite to know more about the RTS, have a look at our own video, A Year in the Life of the RTS in Wales.
 
Special Offers for RTS Wales Members!
We are pleased to announce that we have arranged for our members to get special rates at the Park Plaza hotel, and at the Laguna Health and Spa in Cardiff.
Read More

 
Interested?  Take a look at our Television magazine, then join the RTS!